Frustrated with the lack of professional opportunities within my field and the absence of a marketing community, my friend suggested that I revive an old club called Marketers of Baruch. After taking five seconds to digest the idea, I went out and made it happen.
The Problem
Baruch being a commuter school known primarily for their finance and accounting programs, the marketing and advertising community was nonexistent. There were no real career opportunities, networks, or resources for students to turn to.
The Insight
Marketing and advertising students at Baruch are sleeping giants waiting to pounce on any golden opportunity presented to them.
The lack of social and professional opportunities has created an unmatched eagerness for them to push to succeed in their professional and personal journeys.
The Idea
Create a community that extends beyond regular club activities and into a group of highly motivated individuals of good character to share common values of grit, community, friendship, and success. We can achieve this by creating a balanced mix of professional and social events.
Most importantly, we aim to create a culture of sharing and encouragement through coffee discussions, job postings, group projects, mock interviews, and more.
Watch our promotional video inspired by Dollar Shave Club, starring yours truly
The Brand
Our three values:
Community: Be part of a community that is not only here to push you to succeed but to also have fun along the way!
Growth: Gain hands-on experience by working with real clients, internal workshops, and coffee discussions.
Excellence: Set a higher standard for yourself by being surrounded by motivated and passionate students. Influence and be influenced!
Moreover, it is integral that our voice remains consistently professional, transparent, organized, and genuine.
The Strategic Journey
In order to do this, we had to start from scratch. Back to the drawing board!
Phase I: Idea Generation
OUTREACH:
The very first thing I did was contact the Presidents and board members of the top professional organizations on campus. All I did was ask questions.
What events do your members enjoy most?
What is your community like?
How do you keep your members involved and engaged?
How did you go about building a close-knit community?
What kind of professional events have been the most successful?
Do you have a mentorship program?
How did you establish your club culture?
PITCHING THE IDEA:
After jotting down notes and coming up with a simple brief, I had to come up with our selling points. What made us unique and why would anyone want to join us? Then it dawned on me - community, growth, and excellence.
So I pitched the idea of MOB to my mentors, close friends, and students leaders and the feedback was generally positive - it was safe to move on.
RECRUITING MY ALL STAR TEAM:
I was fortunate enough to be heavily involved with other organizations on campus and it was natural that all my best friends were student leaders. I came up with a shortlist of a potential e-board and as I approached them and pitched my visions and dreams for this club, all of the people I wanted to join my team had a glimmer in their eye. They were just as passionate as I was about going about this!
On top of that - they were my friends so I was confident that we would all work well together.
Phase II: Pre Launch
Building the Infrastructure:
We all shared the same vision: to bring the best marketing resources to Baruch while furthering our personal and professional goals. However, it was time to get down to the smaller organizational details about how this club was going to be run.
At this point it was less thinking and more doing. We just had to start somewhere. And we started by taking the best practices of all the top professional organizations on campus. Soon enough, we were able to:
Define clear Eboard roles

Establish committees and roles

Create new member application requirements and process

Determine membership requirements

Detail membership dues + budget planning

Specify club positioning and unique selling proposition

Develop partnership with CUNY Entrepreneurship Center for semester-long client work and marketing pitch

Cold email and establish a professional network for potential speakers and mentors

Plan a diverse schedule of events for members to enjoy
Outreach Campaign
Freshman Convocation:
It was a little tough just approaching students coldly, but turns out that most of the people we accepted into our organization were those we met during this time.
Club Fair:
Learning from our mistakes, Joeleen put together an awesome sign to hold up during the club fair.
We had students lining up just to speak with us and we captured over 100 emails in a few hours!
SOCIAL MEDIA CAMPAIGN:
Profile Pictures and Cover Photo Push
All the executive board members changed their profile pictures and cover photos at peak hours at Sunday night to fill our Facebook feeds as a grand entrance.
"Meet the Mobsters"
These scheduled posts put a face on our organization. They included a short quote on why we all want to be a part of MOB
Promotional Video
Inspired by the Dollar Shave Club, our promotional video highlights not only our three values but also our close-knit community. Perhaps my dance moves at the end had something to do with it.
3-Week Results:
35K+ Unique Reach
29K+ Engagements
84 Applications
34 Accepted Members
Campus BUzzzz
Budget: $0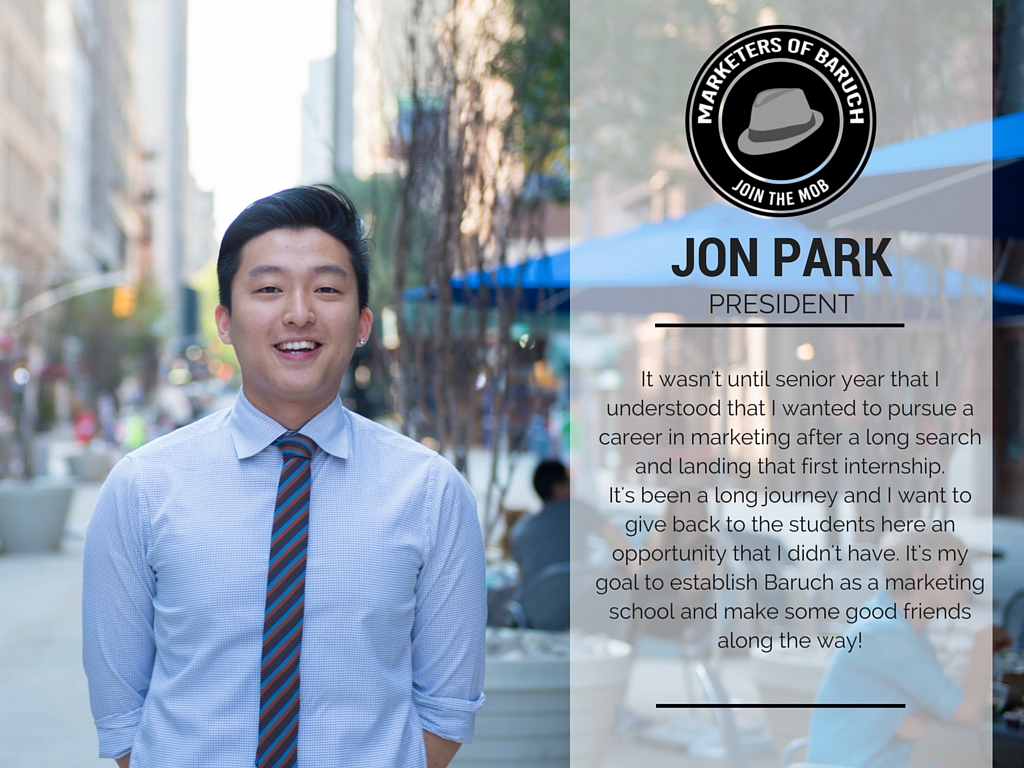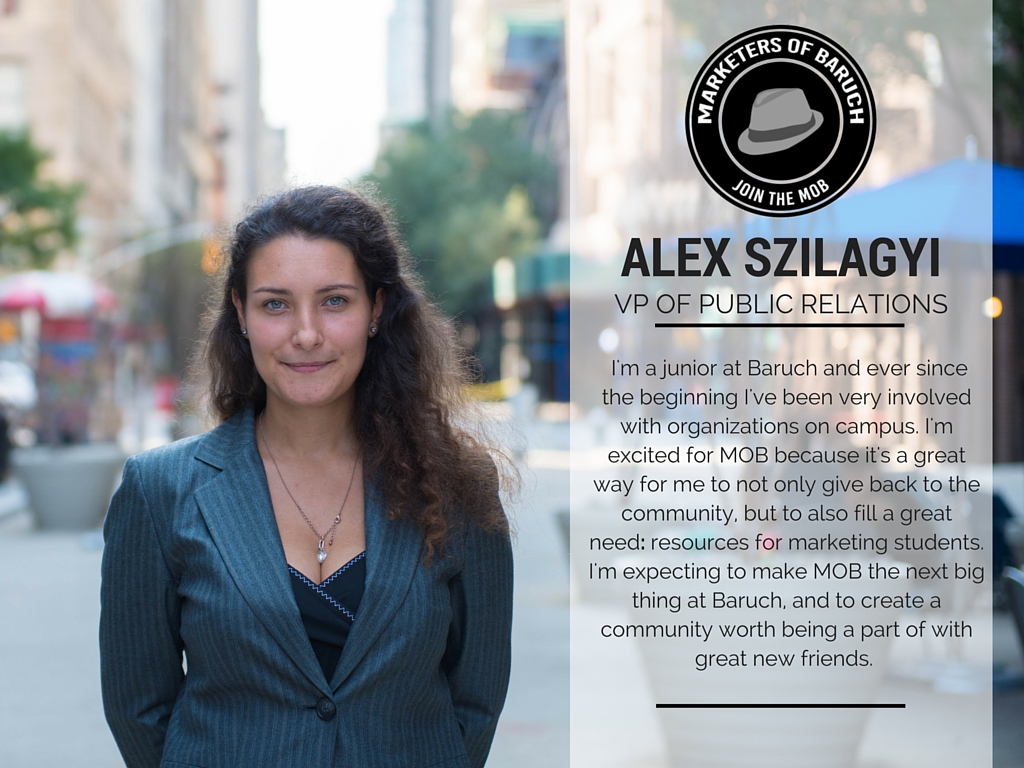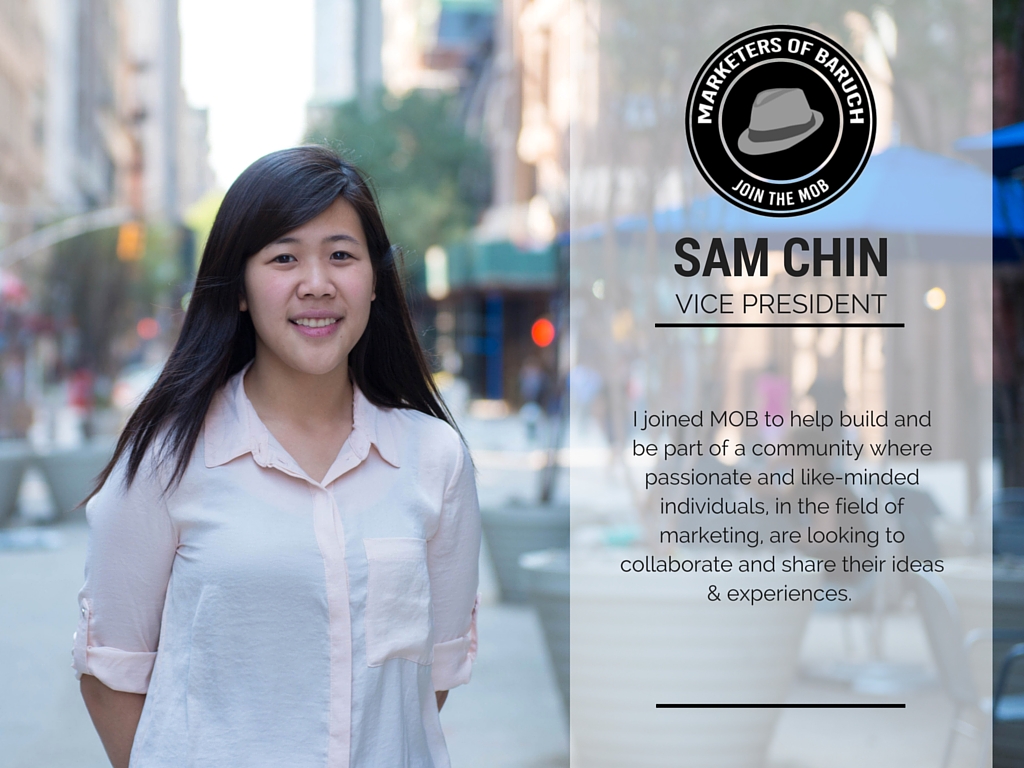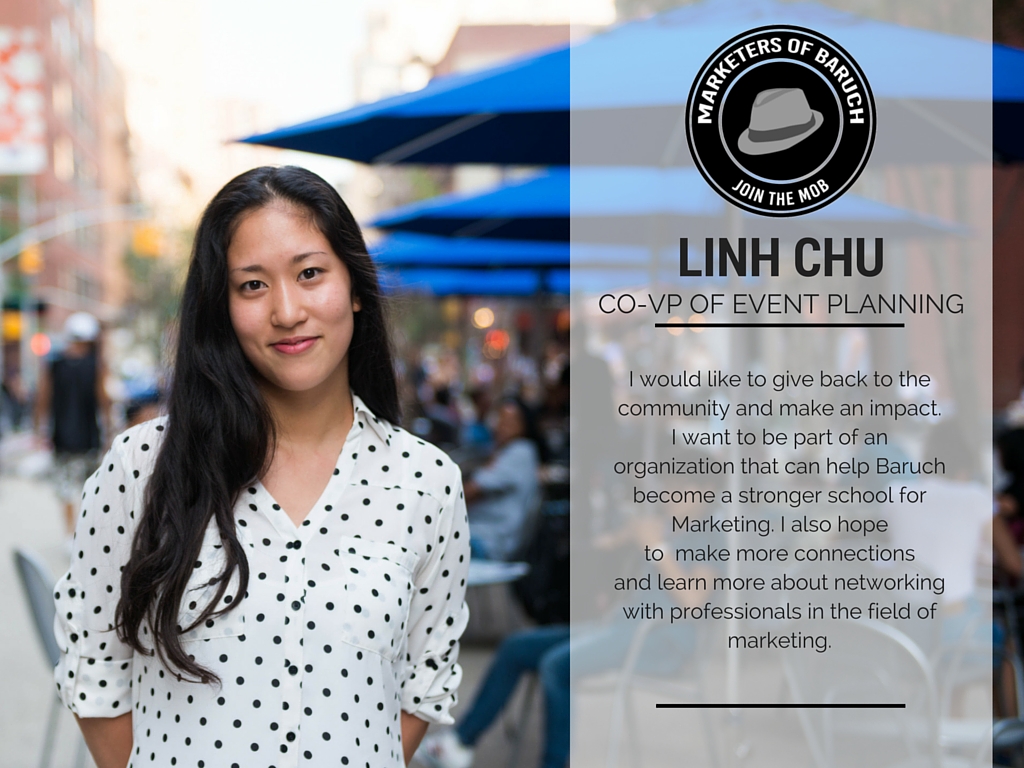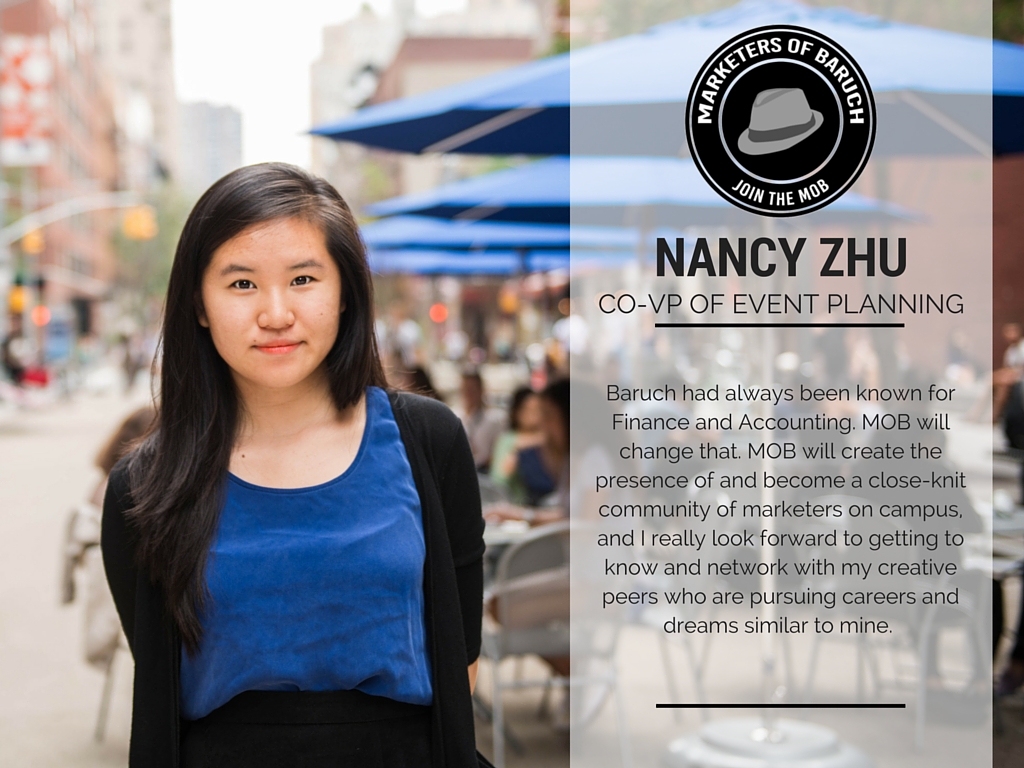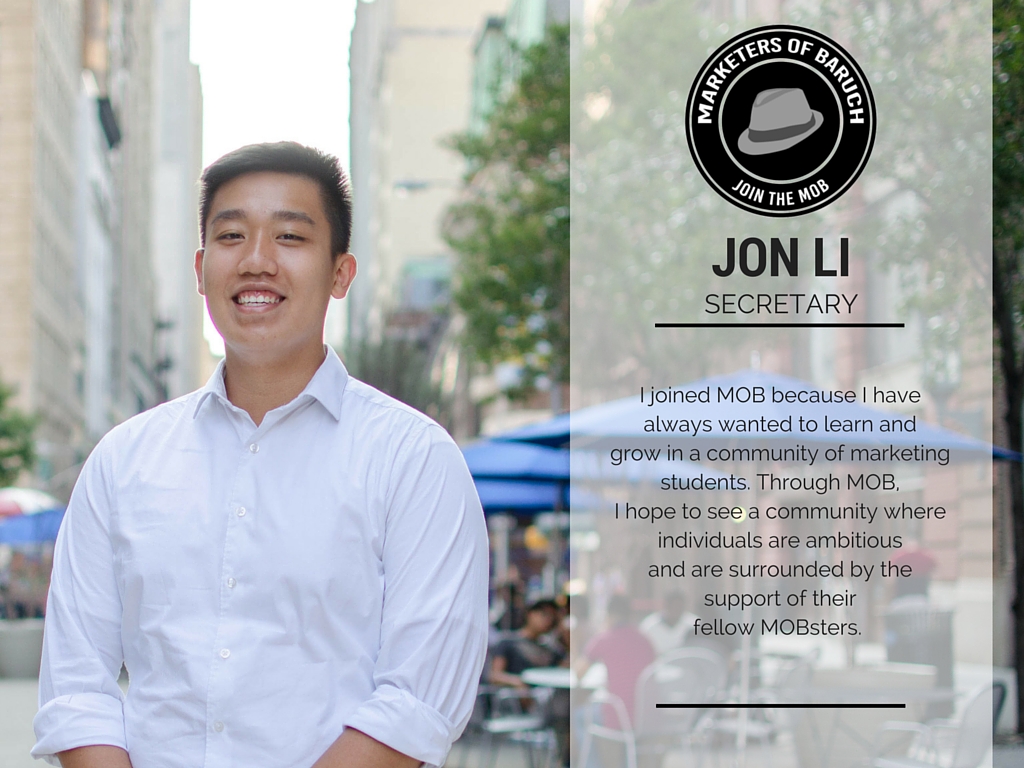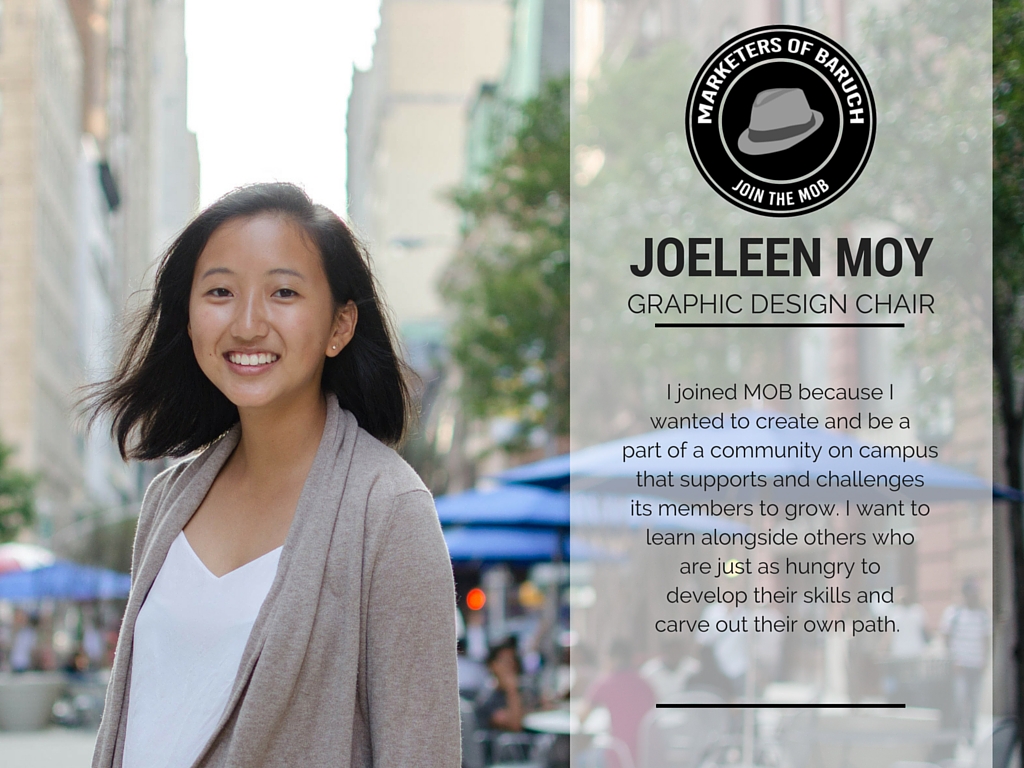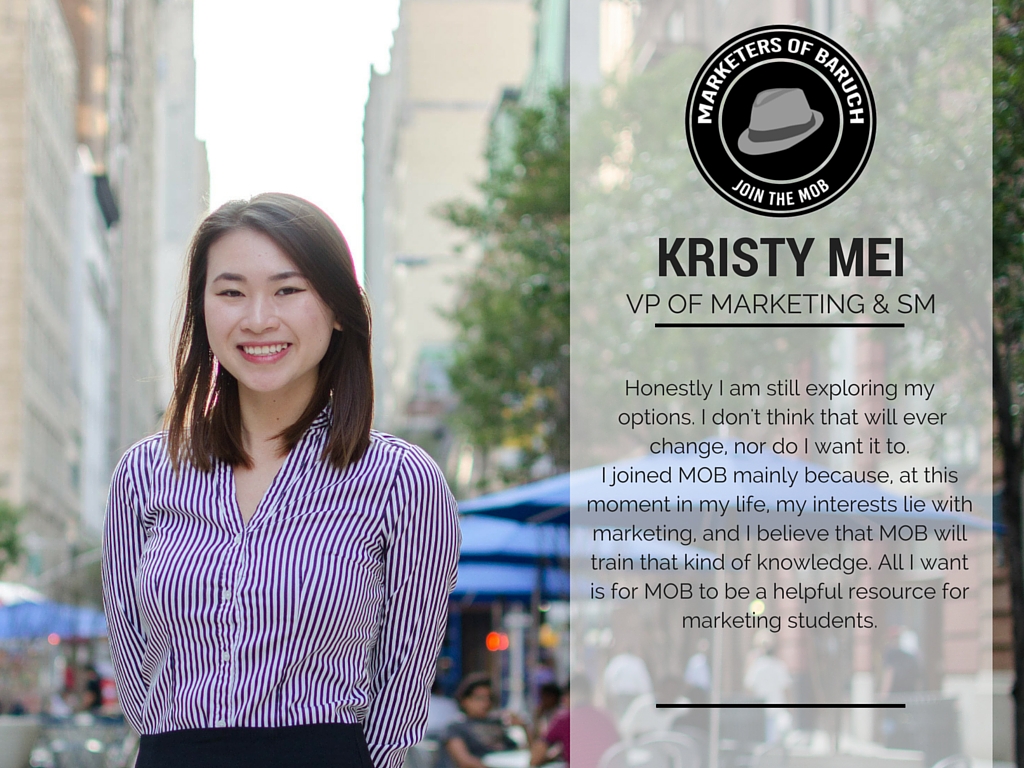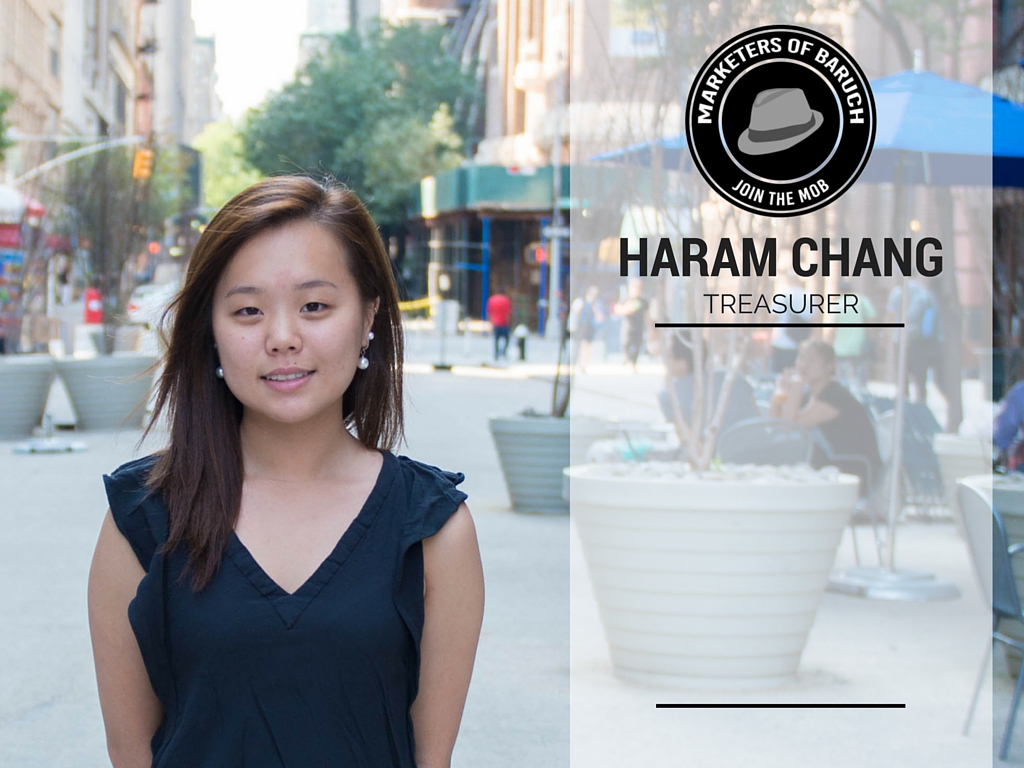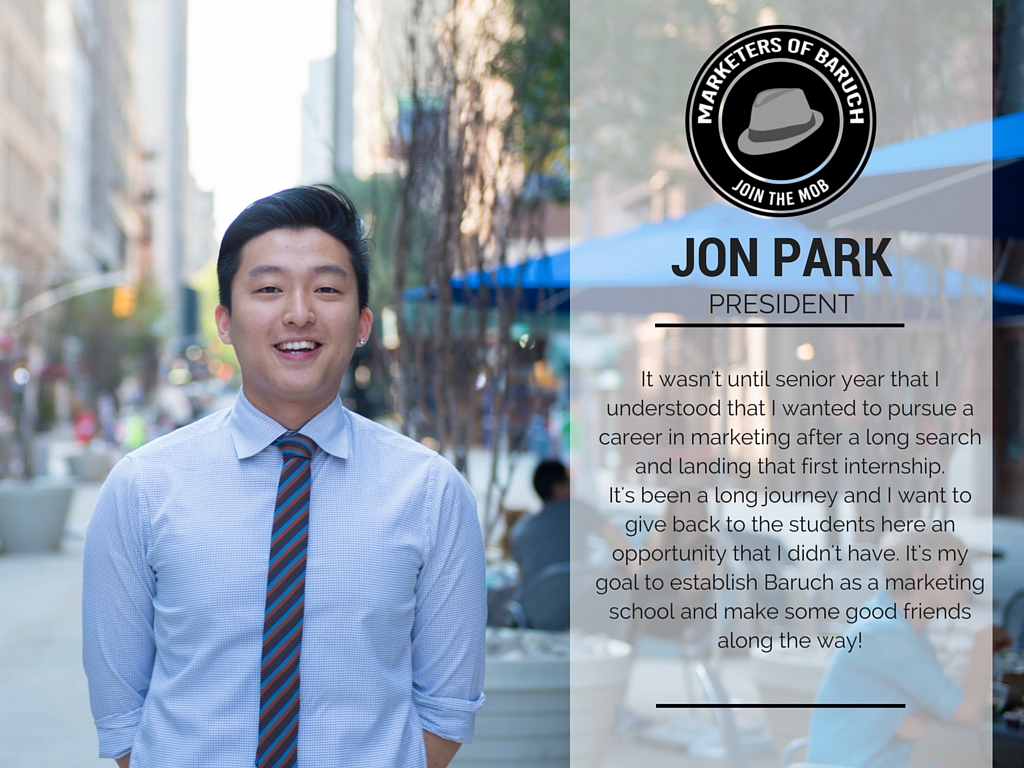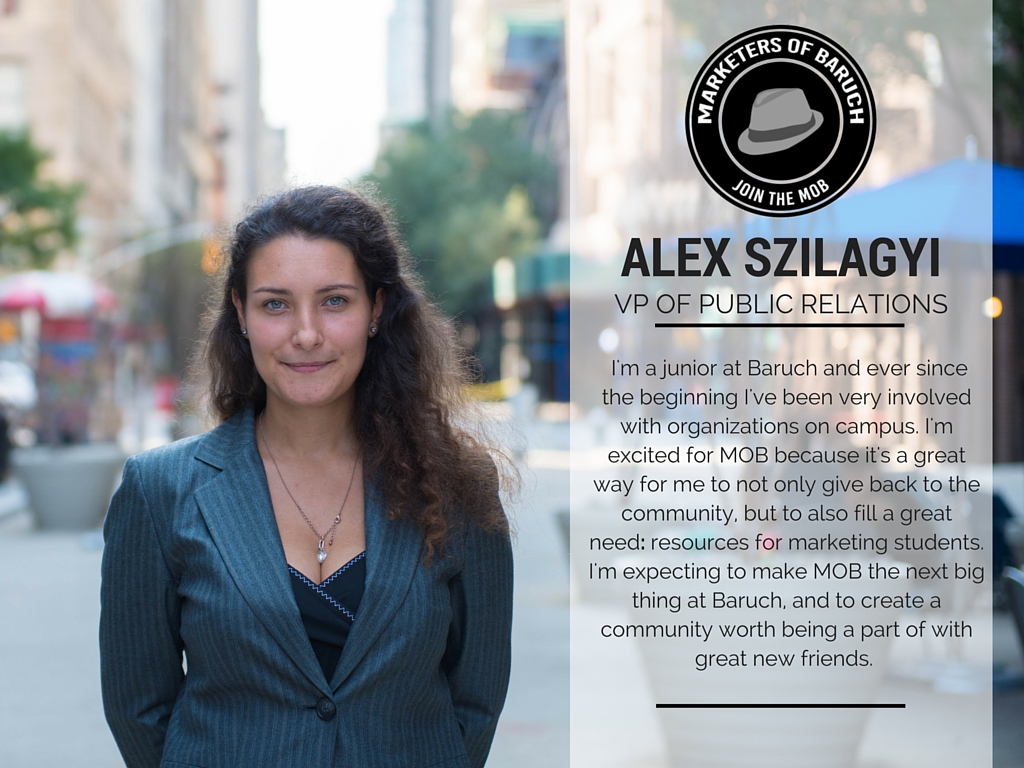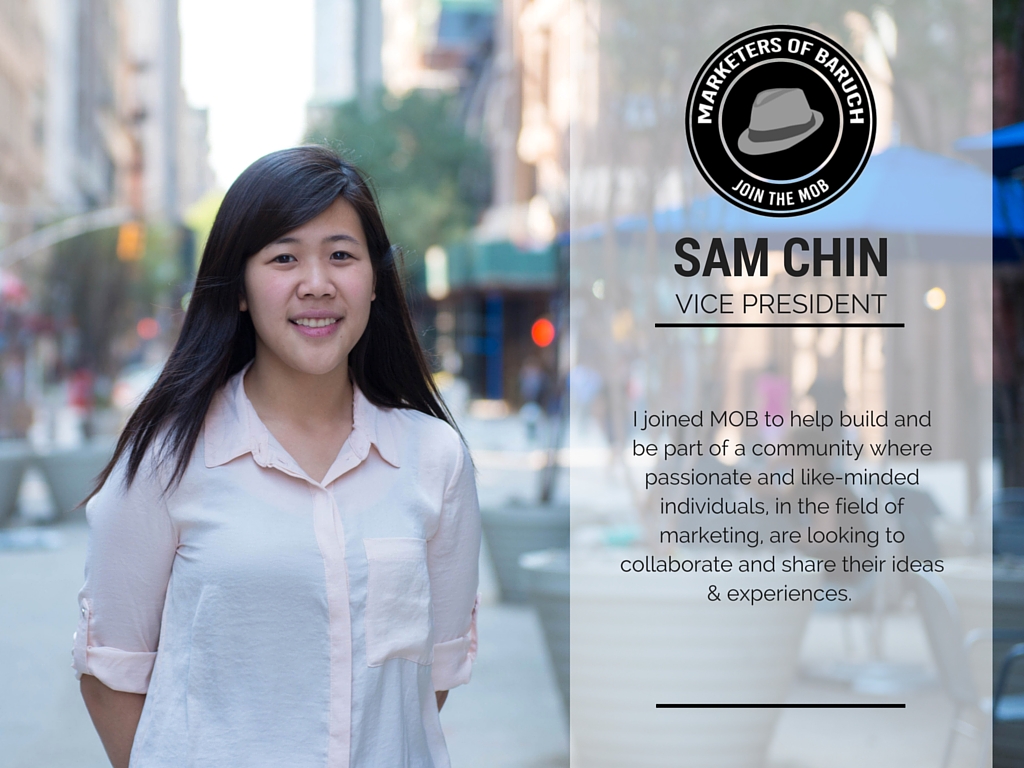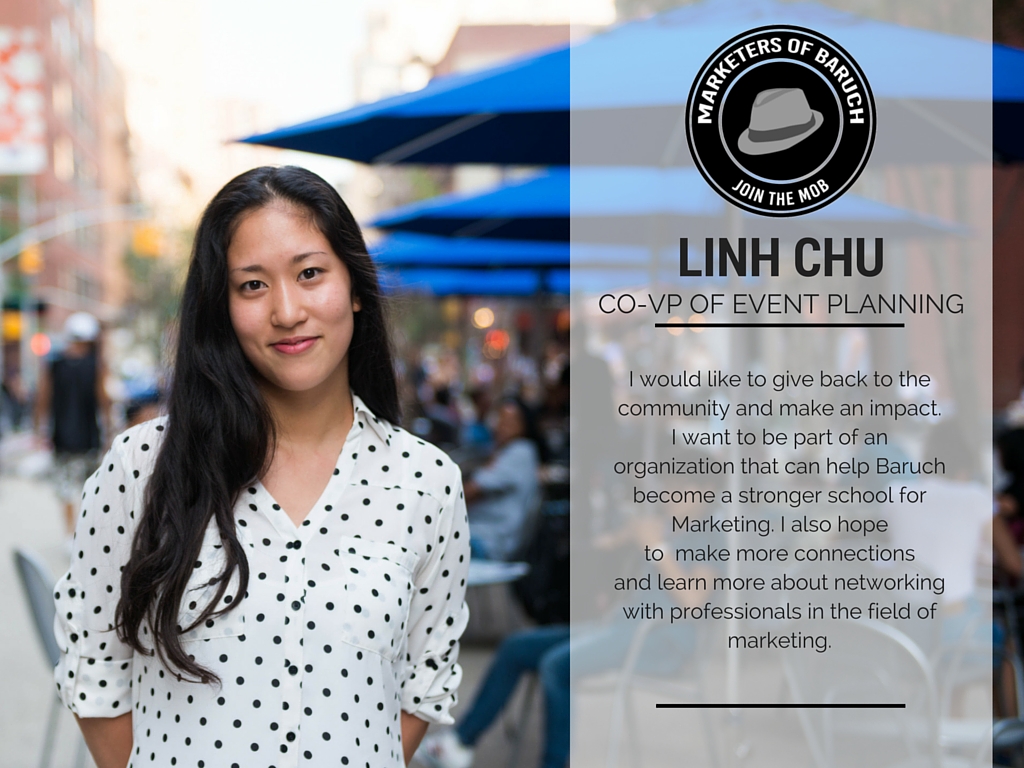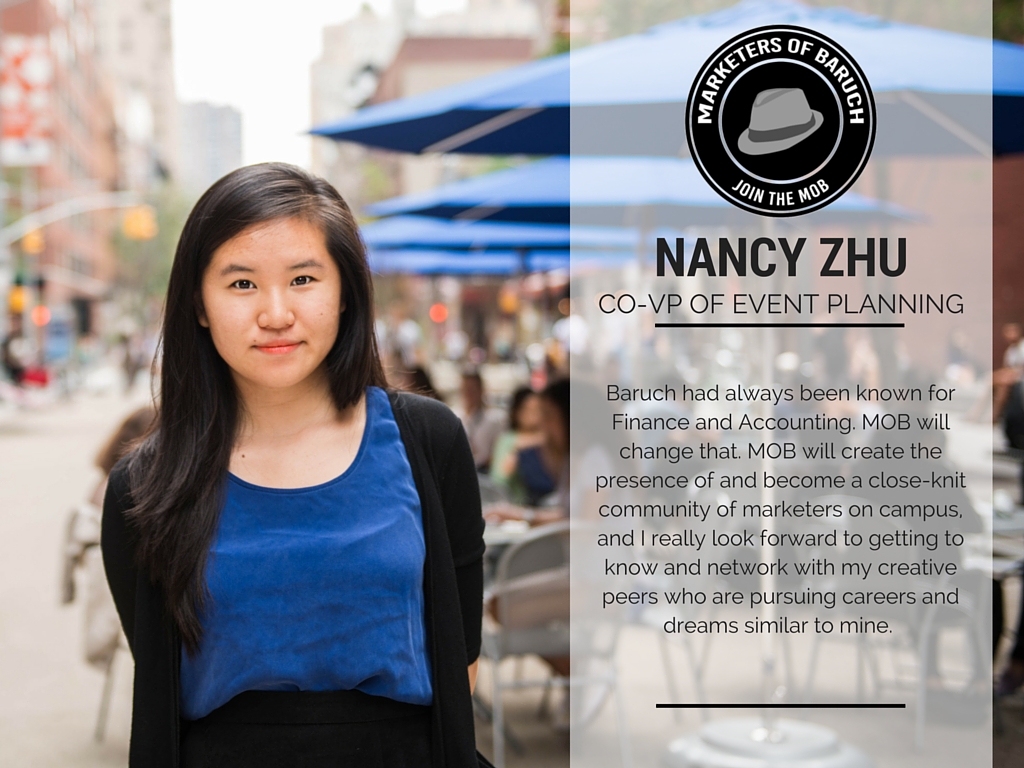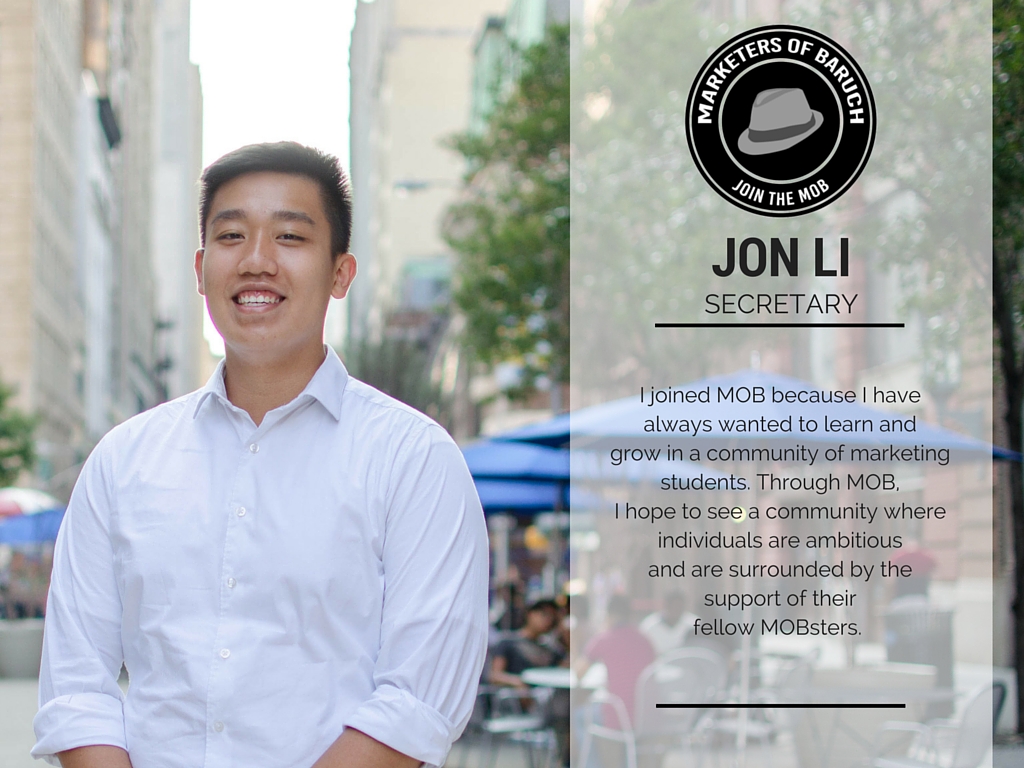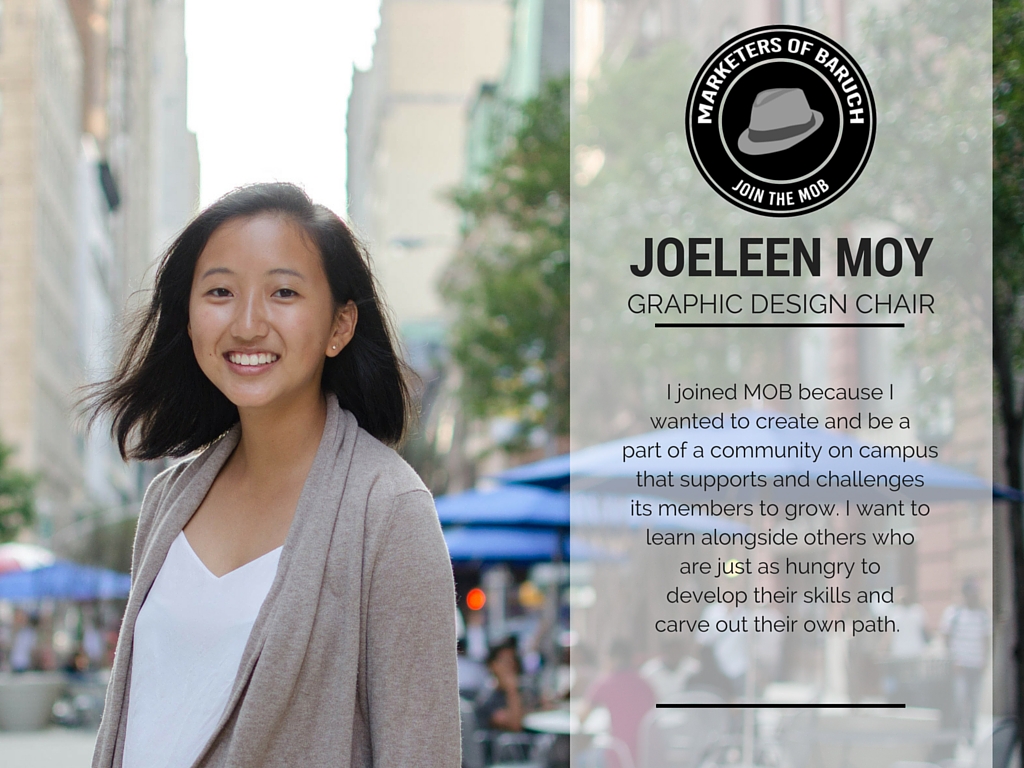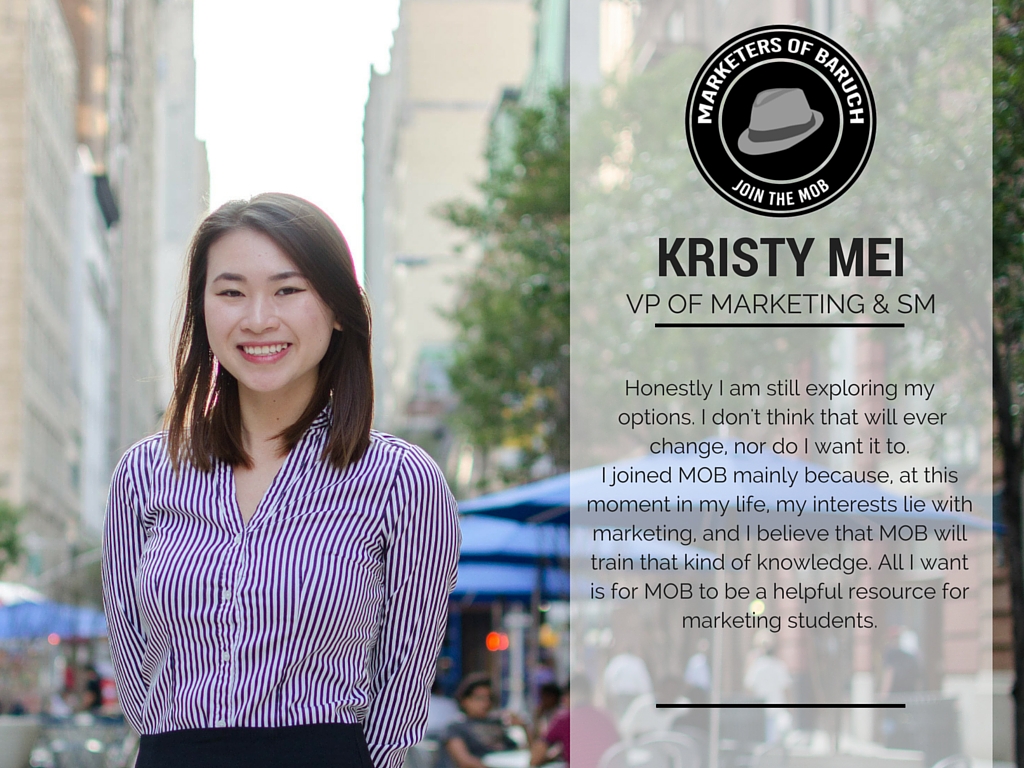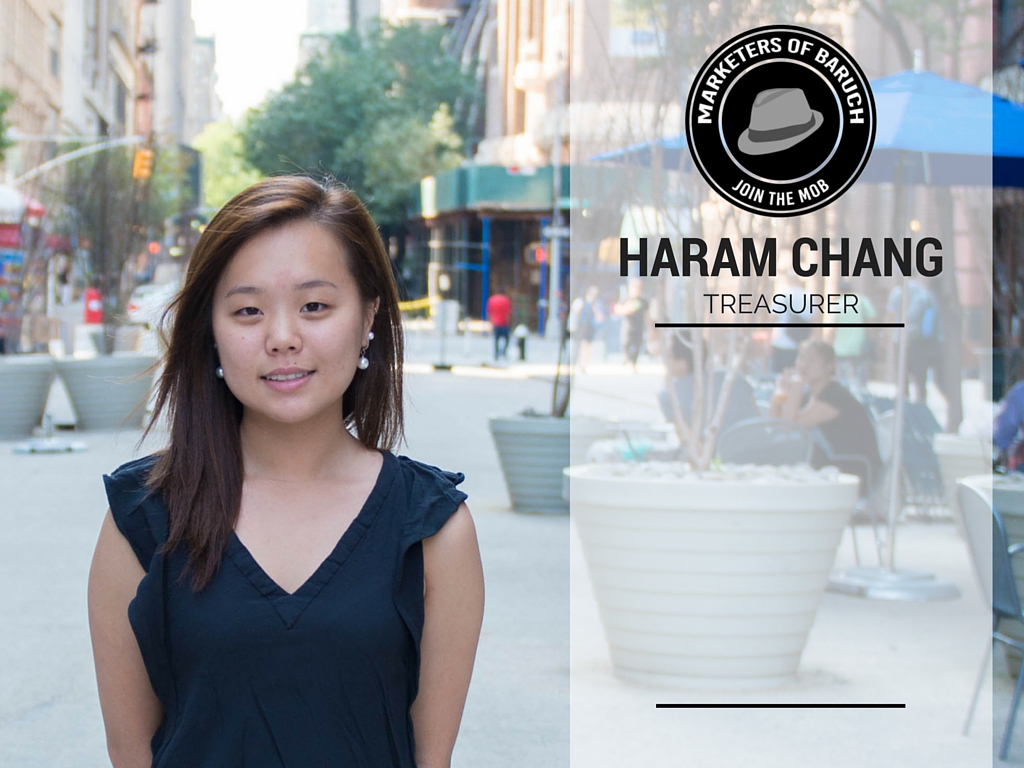 Events
We had many exciting events throughout the semester! Here are just a few:
Induction Night

Provided a thorough introduction as eboard members, as an organization, the semester-long project, and my personal motivations, journey, and visions for the club.

We ended the night in the best way we could - by grabbing some really good Italian food in Union Square!

How to Market Your Startup

Digital Marketing 101 - Intro to SEM, SEO, Affiliate Marketing, and Keywords

Doughnuts and Discussion

D&D are biweekly roundtable discussions where senior members answer questions for the less-experienced members who bring questions about various topics including networking, recruitment, and more. This fosters a culture of giving back and encouraging each other to succeed.

Potluck and Bowling socials

Networking with Findspark

Mutlicultural Advertising Internship Program informational Session

Advertising Panel with BBDO, Mediavest, and MediaCom

Marketing Panel with McCann, Pencils of Promise, and iHeart Media

Bakesales and fundraisers

Open mic performance

Semester group project pitch competition

NYU Stern's Marketing Mix
This has single-handedly been the most rewarding experience in my entire life. These fellas are my second family. #Mobsquad
A huge thank you to Nancy Zhu for shooting and editing all these photos!